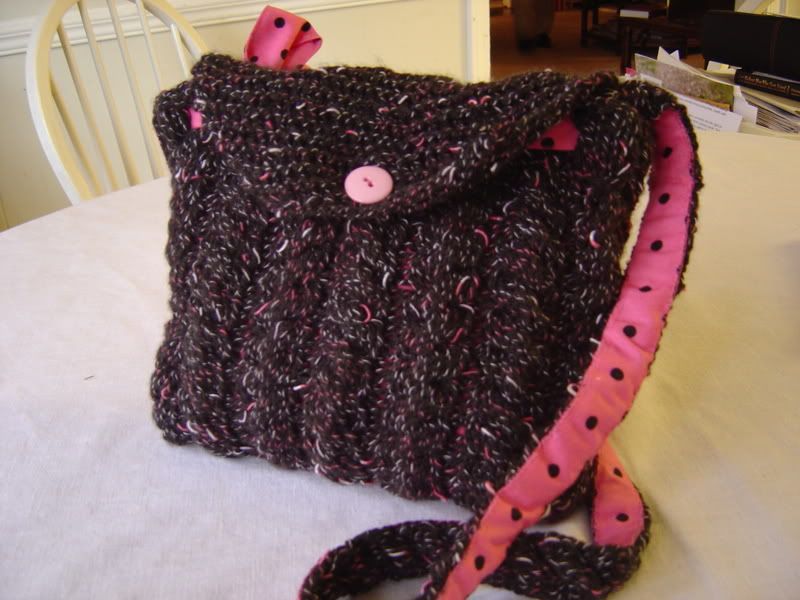 My swapping partner, Heather, received her package yesterday so now I am free to start posting about the things that I sent her. Whew! It's gonna take a while, so I am just going to blog about one topic at a time.
I knit her this purse out of BabyBee yarn. Her favorite color is pink and she liked it paired with black so I thought this yarn was perfect! It took a skein and a half to make.
I love this yarn so much . . . I'm really glad I bought extra!
I really wanted to make a cable knit purse, so I ended up making up the pattern myself. Next time I think I will try
this pattern
. However, I really enjoyed this pattern that I made up, so maybe it wasn't such a loss after all.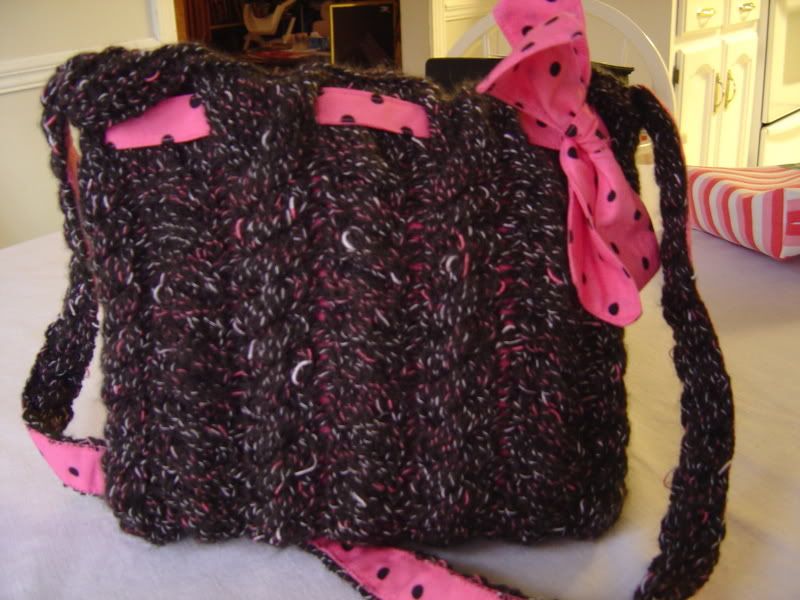 The lining is a really cheap cotton print that I found at Wal-Mart and backed it with a stiff interfacing so it would stand up on it's own and give some shape to the purse. I also lined the strap, which was hand sewn, so that it wouldn't stretch out to her knees when she wore the purse.
I made a "ribbon" that ran around the top of the purse and tied in a bow on the back, as you can see here. The ribbon also served as a means of attaching the lining to the purse without compromising the yarn. I'm rather proud of this ingenuity, actually.
Finally, the lining of the purse was the same that I used on the strap and the ribbon/bow. I added a pocket, because, well everyone needs a nice sized pocket in their purse!
I made the lining two pieces with stiff interfacing in between so that the pink of the material would fill in any "gaps" in the yarn between cables. It created a really nice effect and was better than just lining it with one piece and white interfacing.
All in all, this was fun and didn't take absolutely forever to knit and put together. If you'd like the pattern, comment and I will post it later.