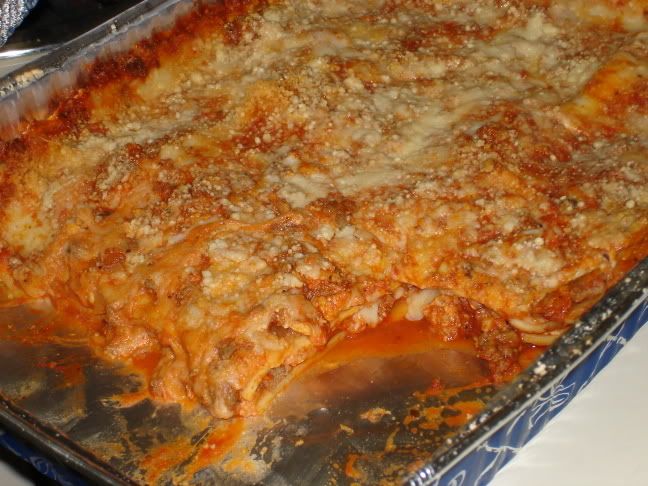 I am currently enjoying my favorite lasagna, a recipe that my mom always followed and has become the standard by which I measure all other lasagnas. I never enjoyed the Stouffer's lasagnas that are in the frozen food aisle because of this. Any lasagna that is not homemade or has anice seeds in it just grosses me out.
If you are interested in the recipe, I am posting it below:
Mama Gish's Lasagna
1 lb. ground chuck
1 medium onion, minced
1 head chopped garlic
1 teaspoon chopped parsley
1 tablespoon olive oil
1 (12 oz.) can tomato paste
2 cups water
1 teaspoon salt
1/2 teaspoon pepper
6 long pieces lasagna noodles
2 large eggs
12 oz. creamed cottage cheese
16 slices mozzerella cheese
grated parmesan cheese
1. In a large pan, brown ground beef in oil with onion, garlic and parsley.
2. Add tomato paste, water, salt and pepper and simmer 45 min. to an hour.
3. Cook lasagna noodles as directed on package.
4. Mix together eggs and cottage cheese.
5. In 13 x 9 x 2" baking pan, spread about 1/2 cup sauce, then alternate layers of lasagna noodles, sauce, egg and cottage cheese mixture, and mozzarella cheese, until baking pan is filled. Top with sauce and sprinkle with Parmesan cheese.
6. Bake @ 350 F about 30 minutes until bubbly all through.
7. Let rest 5-10 minutes before cutting and serving.
Enjoy!