I promised pictures of the book, so here they are:
Here's a pic of the cover that I made. I wish it were more creative, but I was running out of time.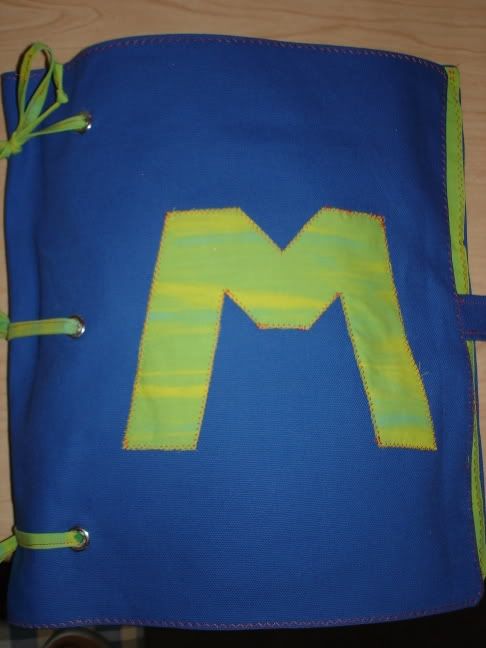 Now I'm just going to go in order of how I put the book together, skipping the ones that I've already shown you pictures of in my previous post. :-D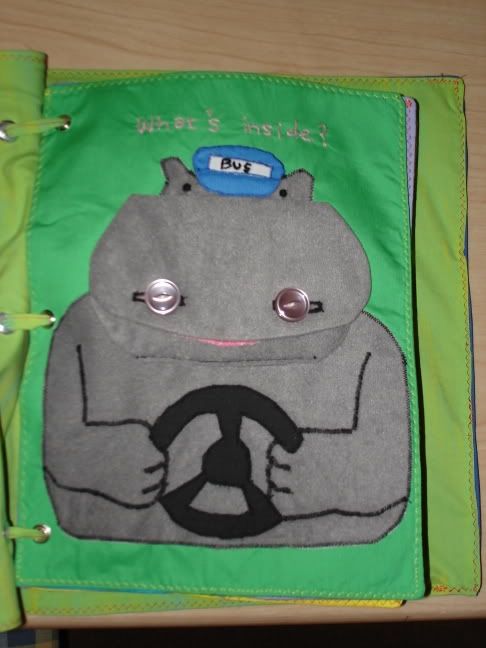 This hippo's mouth is buttoned shut at the nostrils, but it opens to reveal a fat red tongue! So fun, in my opinion, and who doesn't love hippopotamuses (hippopotami? what's the plural of this)?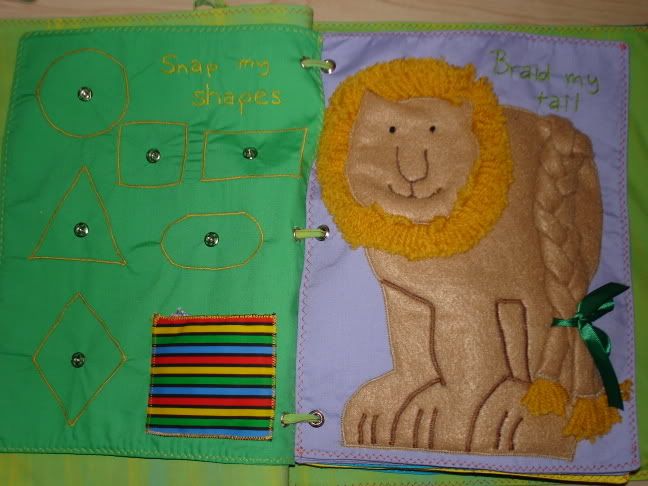 This is my lovely lion. I know that most boys don't care about braiding, but they probably would love the lion anyway, so I included it. Across from him is a page with shapes that snap onto the outlines you see. They are all cut out of different print fabrics, so you get the idea.
My roommate loves the train because it spans two pages. I love it because you can take the elephant and bear out of their compartments! (They are attached with a string so they don't get lost though.)
I know I took pictures of the penguin already, but I took them as page layouts this time and didn't get the balloons yet. Mason is learning his colors, so he can do this one already. Underneath each cutout is a matching color just to help him out. (The pieces are velcro.)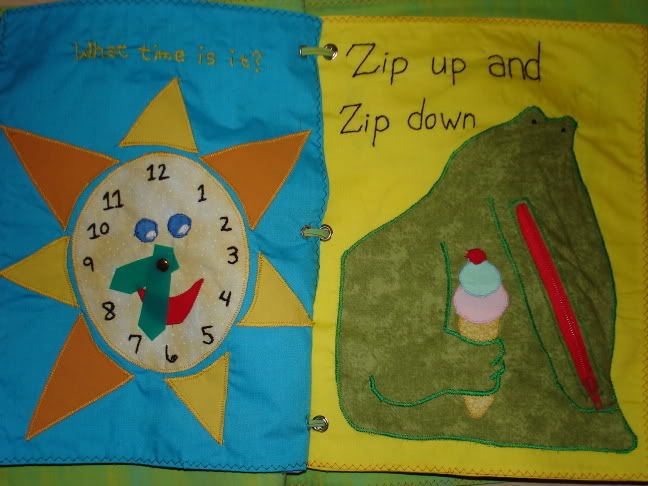 Again, you've seen the alligator, but not my sunny clock! The clock hands on his face are actually moveable plastic pieces attached with a brad. Kids love this page.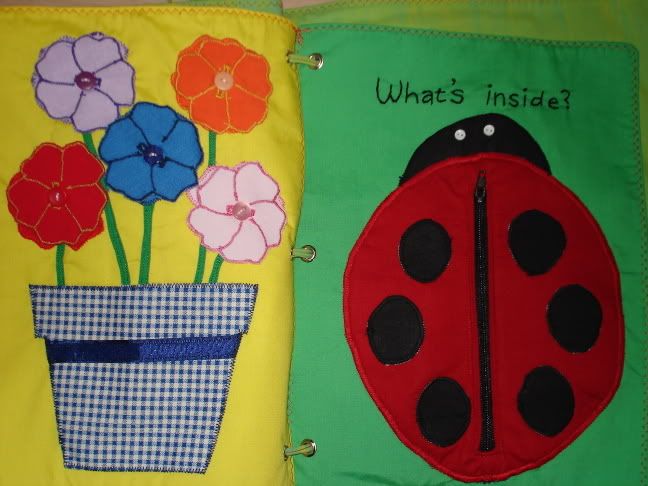 The flowers have cutouts sewn to the page, but also buttoned pieces on top of them. The buttons are tiny, but this page makes me happy. I also have the ladybug, which I had to do once I saw it because I love love love ladybugs. Boys like bugs, right?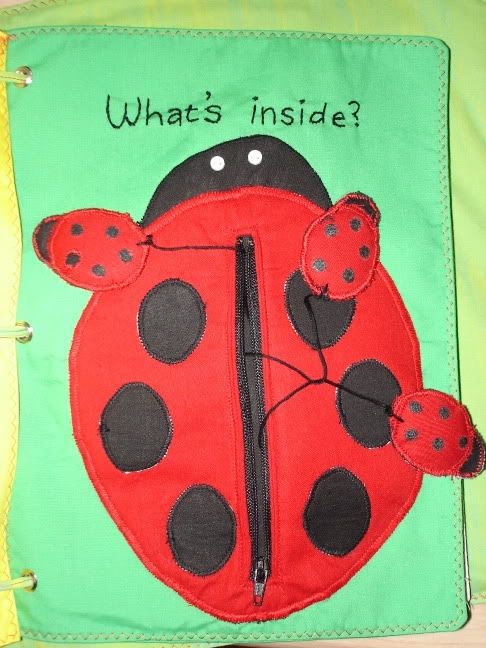 And inside the ladybug . . . baby ladybugs!!! I love it, but you don't have to.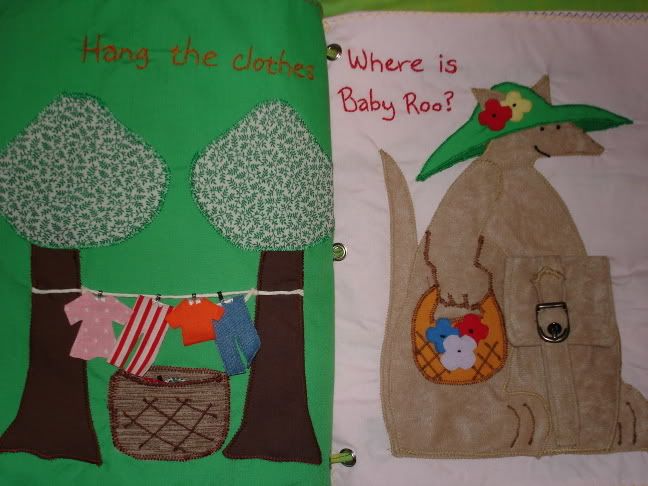 I love this hang the clothes page. Sadly, many kids don't know what it means to hang your clothes on a clothesline any more. They hang up with hooks (from a hook and eye) and the basket underneath holds the clothes when they are not on the line! The kangaroo is the most difficult page to make, because she has a pouch.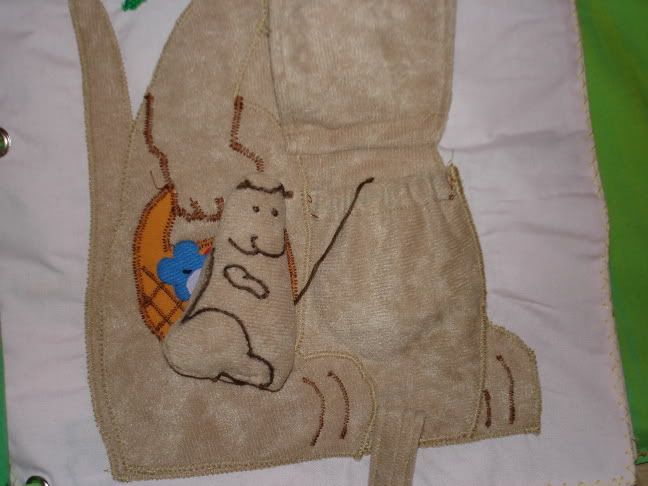 And inside of it . . . is Baby Roo! I had to get the buckle for this from some kids shoes in the thrifstore, because they just don't make buckles small enough anymore!
I've shown you the giraffe, whose bows untie, but not the mitt. This mitt hangs with a hook on the page. He reminds me of the mitt from the hamburger helper commercials and he looks just like an oven mitt (quilted stitching).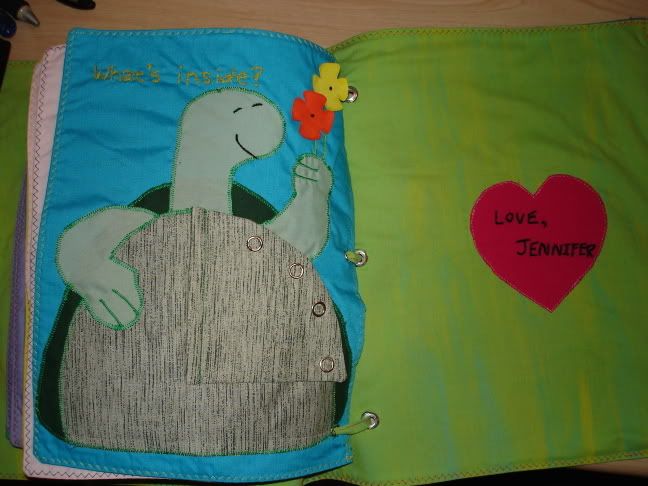 This is the last page . . . aww. It's a sweet little turtle who looks like he is blissfully happy!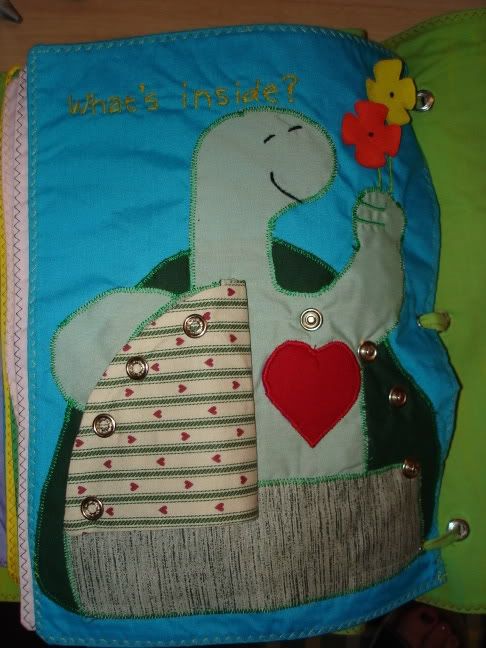 And inside his shell is . . . love! Awwww . . . what a great way to end the book. Thanks for looking! This has been a project made with a lot of love.