Our lives have been crazy in my household lately and we are having the best and worst year of our lives. My husband's mother was put in hospice care two months ago after her 9 year battle with breast cancer. As you can imagine, our lives have been turned upside down and we were saddened by her passing on October 22nd. The time was all too short and we miss her dearly. Please pray for us as the holidays arrive, especially as Thanksgiving will be the one month anniversary of her "graduation" to heaven. She was an amazing woman who touched so many lives that we know she must be organizing the welcoming committee in heaven already.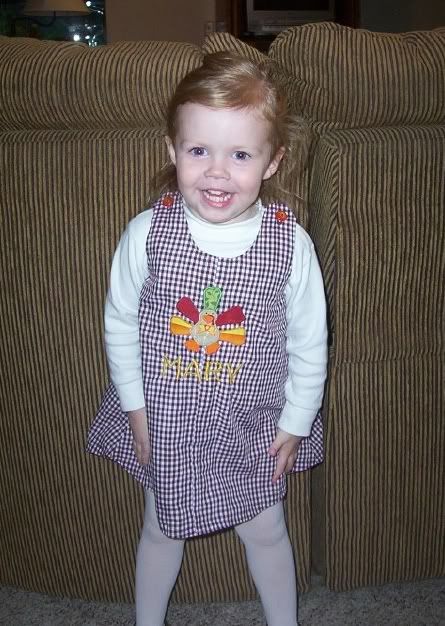 On a lighter note, I have finally gotten back into some crafting. Andrew's sister requested that I make a couple of dresses for her 2 year old for the holidays and I have completed the first one. I made it by copying a dress that we saw on Ebay and I must say I think mine turned out cuter. Haha. Really, though, the cutest part of this picture is the adorable baby girl in the dress! I used brown gingham, which was nearly impossible to find for some reason, and made the turkey from fabric remnants and this magical stuff called "steam a seam." This was my first attempt at some sewing machine embroidery and I think it turned out pretty well. My sis-in-law wanted her name to be stitched on it, so I figured I could do a better job on the machine than by hand. Tear-away stablizer is amazing! The cutest part is that when everyone asked Mary what was on her dress, she said, "A big flower." Cutie Tootie!!
Prepare to stay tuned for pictures of her Christmas outfit coming early in December!